Born during the height of the pandemic shutdown and created for the NYU ITP class Performing Reality with Andrew Schneider, this series of live performances ask the audience/participants to be actively present with themselves, their surroundings, and each other through the magic of free conference call technology.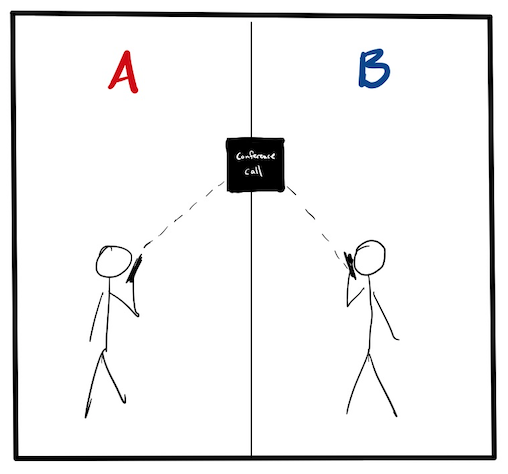 Thank You For Being Present
A performance for two over conference call.
Two people call a number that connects to a free conference call service at the same time. Unbeknownst to them, I am muted in the background, on my computer, cuing audio prompts that guide the participants through a series of questions, leading up to simple physical instructions that got them mirroring each other. In order to preserve the intimacy and integrity of the experience, I didn't record any of the interactions. Click below to hear or read the prompts.
You Are Here
An unspecified entity—perhaps from another planet or the distant future—leads the listener on a walking tour of the fourth floor of 370 Jay Street, while a mysterious interloper tries to derail the proceedings. This audio play is an exploration of how memory is tied to place and how what we remember changes our idea of what could be. Click below to listen to the prompts or to read the transcript.